Beyond the Monterey Bay, 8/7-13/14
Posted | 0 comments
With mixed emotions I'm sitting out what has usually been one of my favorite weekends of the year, if only to tap back into my Bay Area roots and hear live some of the greatest bands on the planet over the course of three days and nights at the San Francisco Outside Lands Festival. Held for the past six years, and continuing in fine fashion for its seventh, at the beautiful Golden Gate Park Friday through Sunday, August 8, 9 & 10, Outside Lands has grown immensely since its inception in 2008.
For the last few years, OSL has sold-out ahead of the festival weekend, in contrast to a few less-than-full first years. Oh to be back when it wasn't so crowded! And it has grown from offering not only music, food, wine and art representative of the Bay Area's bountiful offerings, but starting last year, in addition to Wine Lands, there began a Beer Lands and a Choco Lands. Taste of the Bay Area is the foodie element that has been consistently upgraded each year with new and exciting festival food vendors, some directly tied to brick-and-mortar establishments and others part of the pop-up restaurant trend or food trucks.
While not the first festival to dish out local goods, OSL put the San Francisco cool stamp on everything and to me that means something. Alas, I won't be eating or drinking my way through this year's festival. For anyone who has their tickets in hand, I'm wishing you the best time ever.
Here are the bands I would have caught in the act this year had I gone.
For Friday, heck, I'd even get excited about seeing Kanye West just to see what all the fuss is about. High on my list of must see bands are Tedeschi Trucks Band, Arctic Monkeys, Tegan & Sara, Kacey Musgraves, Chromeo, Nicki Bluhm and the Gramblers, USPS Janis Joplin Tribute featuring Special Guests, Greensky Bluegrass, and Grouplove. Any others I might discover would be great.
I'm not a fan of the DJ Dome, nor is it easy to get into the Barbary to see comedy or experience vaudevillian style acts now that the place is packed to the rafters. And a new venue/stage called GastroMagic has me stumped as to what's going on there. If someone goes there, please report back for me, okay?
Saturday, I am so, so disappointed not to be able to catch Tom Petty & The Heartbreakers, one of my favorite bands of all time. Oh well, hopefully another day. I'd be into seeing Macklemore & Ryan Lewis just to hear what else they do beside their huge hit "Can't Hold Us." Death Cab for Cutie, Haim, John Butler Trio, Capital Cities, Deer Tick are all on my list, plus Atmosphere. Beyond that, it's discovery time again.
Jumping forward to Sunday, I'm really not all that excited about the headliner, The Killers, but I would want to see The Flaming Lips, Ray Lamontagne, Jenny Lewis, Paolo Nutini, Jonathan Wilson, The Brothers Comatose, and that's about it. Because I'm not hip to all the other bands does not mean I wouldn't be interested to hear them, just not driven to make it to sets like the others I mentioned.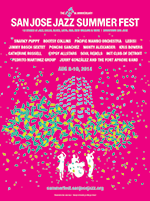 Since I began to cover OSL (all six of them so far), I had to give up going to the San Jose Jazz Festival, which I had been going to for many years over this same weekend. It's no longer the free festival it once was, but it does fill the streets of downtown San Jose with music well worth the small admission fee they now charge. These days the festival is called San Jose Jazz Summer Fest, and this year is the 25th Anniversary. From it's first year over two days, with only the main stage at Plaza de Cesar Chavez, it has grown to present nearly 1,000 musicians on 11 stages over three days, Aug. 8, 9 & 10. There are four levels of tickets available, General Admission at the low end, All Stages, Priority Access and VIP at the top. All the ticket details are at the website, www.summerfest.sanjosejazz.org.
Headliners this year for Friday are Bootsy Collins, Pacific Mambo Orchestra, Con Funk Shun, Jimmy Bosch Sextet, and Kris Bowers. Saturday has Ledisi, Snarky Puppy, Jerry Gonzalez & the Fort Apache Band, Conjunto Chappottin y sus Estrellas, and Nicole Henry with Top Shelf Big Band & Orchestra. For Sunday Pedrito Martinez Group featuring Ariacne Trujillo, Monty Alexander and the Harlem-Kingston Express, Catherine Russell, Poncho Sanchez Band & Guests: Tribute to Armando Peraza, San Jose Taiko with the Bangerz, and last but not least, David Sanborn, Joey DeFrancesco, Warren Wolf & Byron Landham.
Of course, there is a ton of other great music, but if you're really interested I suggest you get on up there and trek the sidewalks of the downtown San Jose scene, maybe peruse the website first. I do want to mention that the Monterey Jazz Festival County High School Band and Choir will appear Saturday at 3:15 p.m. on the Next Gen Stage, and Sista Monica is on the Blues Stage Saturday, at 9 p.m. The Big Easy Stage has CJ Chenier and the Red Hot Louisiana Band, Saturday at 4:30 p.m. plus Donald Harrison featuring special guest Kevin Harris, Sunday, 7:30 p.m.
Back over the hill in the Felton area Saturday and Sunday is the Santa Cruz Mountain Sol Festival, held at Roaring Camp Meadows, presented by Sol Bros LLC. I'd for sure be up at this event if I didn't want to stay in town this weekend for the Summer Mixup reggae fest Saturday and the Lydia Pense & Cold Blood concert for the last of this season's free shows at Seaside's Sunday Blues in the Park.
There's a heck of a good lineup at this event. Saturday has New Monsoon, 7 Come 11, Rodney Crowell, Stu Allen/Justin Purtill, Animal Liberation Orchestra, Fruition, Ani DiFranco, Santa Cruz Dead All Stars, Dead Winer Carpenters, Emily Elbert, and Pat Hull. For Sunday, Railroad Earth, SambaDa, James McMurtry Band, Coffis Brothers, Zappa Plays Zappa, Naked Bootleggers, The Motet, McCoy Tyler Band and Dan Bern.
Gates open at 11 a.m. and close at 8 p.m. Roaring Camp Meadows is off Graham Hill Road in Felton, high in the Santa Cruz Mountains Festival details are at www.santacruzmountainsol.com, and you can buy tickets there. Two-day general festival passes are $100, two-day Gold Club passes are $140. Single-day tix are $55, and the single-day Gold Club tix are $75. This is an all ages festival.
So that's it for this first installment of the Where It's At extension. I'm all worn out with the festival scene in its apex for the summer. Coming down the pike I'll dig deeper into the clubs and provide more reviews of shows I get out to. Have a great weekend, whether you're out for the music or just hanging in the backyard with the BBQ fired up. Sounds good either way. Cheers!