So back to the Monterey Jazz Festival and its events filtered through my experiences. I last left you with my enjoyment of the Clayton-Hamilton Jazz Orchestra's commissioned piece, "Sweet Suite Dave: The Brubeck Files," in honor of the late Dave Brubeck. I doff my proverbial hat to the great California jazz pianist whose time signature innovations brought a higher level of musical understanding to a wide and not so jazz centric public. He was a great friend to the Monterey Jazz Festival and his California roots bring great pride to the denizens of this great state. Thank you Mr. Brubeck for your dedication, talent and huge heart. There were other observations of his contributions, including a photo exhibition in the Coffee House Gallery, the performance by the Brubeck Institute Jazz Quintet, and by his sons in the Brubeck Brothers Quartet on Saturday, plus a Panel Discussion titled Dave Brubeck: Hip as a Pair of Horn-Rimmed Glasses. There is a wonderful article in the festival program written by Jeff Kaliss that sums up some of what the tributes are all about. I would not be surprised if there were numerous spontaneous accolades being expressed throughout the weekend by the master's many musician friends and fans.
Because I was on the move and busy connecting with folks, I generally caught maybe two to three tunes for each of the other ensembles Friday night. Hearing the Dave Douglas Quintet finish its set in the Night Club was a joy. I've been a Douglas fan for a long time, and used to follow his every recording on my jazz radio shows, although it seems a decade has passed since I've last heard him play live. So hearing the current configuration brought me up to date with his activities.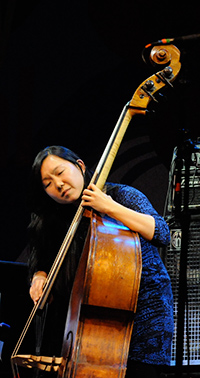 The leader's horn playing was superb as always, but what stood out for me was being introduced to lady bass player Linda Oh, and drummer Rudy Royston. Ms. Oh really wowed listeners in this set, but where she shone brightest was in her Saturday night solo turn during the performance on Jimmy Lyons Stage by the Joe Lovano & Dave Douglas Quintet: Sound Prints. The audience really connected with her playing and gave loud appreciation at the band's ending bow in addition to directly after the solo. The quintet's premier of two Wayne Shorter commissioned pieces titled "To Sail Beyond the Sunset" & "Destination Unknown," gave listeners a crash course in what they might expect when the composer himself would perform with his long held quartet in its Sunday night turn on the same stage. I'll share more on that later. And then Royston's drum solo was a much talked about subject among those I ran into on the grounds, not only in his appearances at MJF, but I heard exclamations from the current KRML on air sandra representatives when they covered Douglas' appearances connected with the Big Sur Land Trust's two fund raising events earlier in the week before the festival. There's that discovery angle I love so much about music festivals in general.
I think I can briefly mention the Joe Lovano Us Five set in Dizzy's Den drew a large and appreciative crowd, although I could not spend a lot of time there myself. I did get a chance to hear two youthful fusion bands Friday evening in Snarky Puppy and 7 Come 11.  But once again these were mere glimpses of what they both offered. The snatches I caught were electrically amplified driving jazz/rock musical styles, probably the most intense was the last tune of 7 Come 11's set on the Garden Stage while I was hanging backstage. I believe the band is primarily based out of Santa Cruz because I would see its name often on the schedules of the Santa Cruz clubs, mainly Moe's Alley on a regular basis. Guitarist Renzo Staiano, a Monterey native, was tearing it up massively and sending the crowd into a tizzy with his playing and I was thinking whoa, this is a jazz festival? Yes, there were bands that did not always play tried and true jazz. And that's a good thing in my book. I did catch the very jazz like playing of the Uri Caine Trio in the Coffee House, and that provided some much appreciated quiet time for my sad bruised little brain (nursing a concussion) before I made my way out of the festival and home to get the much needed healing sleep before the big, long day on Saturday.
In general, it appeared there was a healthy amount of people out for the festival this year, but I do believe, without having any confirmation from the festival office, that there probably was less than wished for attendance figures for the overall weekend. I did get word on Sunday from an usher friend that the arena for Sunday night did have a sell-out, but I didn't hear anything more number wise. Personally, I enjoyed very much the number of people navigating about the grounds. It was full of happy people, and some lines here and there, but otherwise a very pleasant experience not to be in a crush of people that a sell-out crowd can deliver. It's a Catch 22 thing for presenters, obviously. Success does depend on numbers, but I know with this organization, having the patrons happy and content is also a concern. In my next post I offer a wrap up of the entire festival and coming soon a photo gallery from the weekend. Cheers!